Learn about the latest research, managing your condition, and empowering our community!
Every person diagnosed with FSHD embarks on thier own unique journey, yet none of us walk alone.
FSHD 360 Conferences (formerly known as FSHD Family Days) offer the latest in research, condition management, and personal empowerment for those living with Facioscapulohumeral muscular dystrophy.  
Multiple conferences are held each year, in cities across the US, with experts in the field - most often in partnership with Clinical Trial Research Network sites. We hope you will check the schedule below and plan to attend a conference near you. 
We know not everyone can attend in-person so we are thrilled to offer access to the videos from these conferences. Just fill out the short form to the right for free access to the FSHD 360 playlist. This allows for unlimited viewing of all our 2021 conference recordings.  
We hope this information will help you manage the disease, learn about the latest in research, and identify local resources you can tap into for more.  
The Museum of Flight
9404 East Marginal Way S, Seattle, WA, United States
9:00 a.m. US Pacific Time doors open | 10:00-3:00 p.m. US PT conference sessions The FSHD Society, in collaboration with Friends of FSH Research and the University of Washington Seattle,... Read More »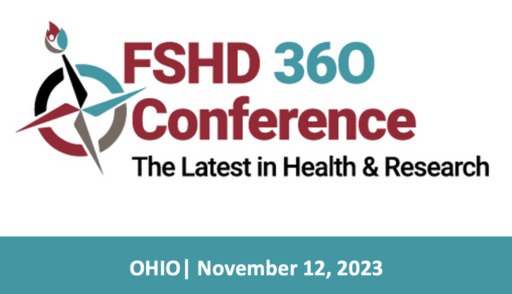 Fawcett Center
2400 Olentangy River Road, Columbus, OH, United States
9:00 a.m. US Eastern Time doors open | 9:30 a.m. - 3:30 p.m. US ET conference sessions The FSHD Society, in collaboration with the Ohio State University and Nationwide Children's... Read More »
FSHD 360 Conferences are made possible through the support of our generous sponsors:
November 2020, FSHD Family Day was hosted by the University of Kansas Medical Center (UKMC), Department of Neurology, and Jeffrey M. Statland, M.D. in partnership with the FSHD Society. KUMC is an integral part of the FSHD Clinical Trial Research Network (CTRN)