New York, NY / September 25, 2012
For years, Steven Blier has occupied the limelight as a celebrated pianist and advocate for the art song. He has toured with opera superstars like Renée Fleming. Singers line up at his door to be coached to greatness. As Artistic Director of the New York Festival of Song, he brings vocal music from diverse genres to the stage and to nationwide radio audiences.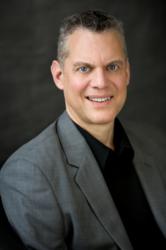 But on September 24th, Blier stepped into the spotlight as an advocate for a different cause, headlining a benefit concert at the New York Botanical Gardens to raise funds for FSH Muscular Dystrophy (FSHD). The most common form of muscular dystrophy, FSHD has left Blier unable to walk. Sharing the stage with him was his friend Kelli O'Hara, the multi Tony award-nominated singer and actress who has entranced audiences in such Broadway hits as South Pacific, The Pajama Game and, currently, Nice Work If You Can Get It.
At the benefit event, the pair captivated the crowd with Gershwin, Sondheim and other classics from the American songbook, but they also had an urgent message to deliver through a new video. "We no longer just live in some vague, undefined hope," Blier exhorts viewers. "We now live in the knowledge that with your generosity and our music, we will actually reverse this disease and get out of our wheelchairs for good." The event was a smash success, raising $250,000 for the FSH Society, a national grassroots organization that assists patients and funds research on the devastating disease.
A few hundred thousand people worldwide develop FSHD, making it an "orphan" disease that won't attract large research funding or drug company investment. It's rare enough that many doctors don't recognize it, leaving patients to suffer undiagnosed and alone. Frustrated by the lack of interest in FSHD, two patients, Daniel Perez and Stephen J. Jacobsen, founded the FSH Society in 1993. Their goal: to launch a scientific research program for FSHD at a time when there were virtually no scientists or funding to study the disease.
For Blier, FSHD was a lonely, unending battle. Even as his musical career took flight, he carried on stoically as the strength ebbed from his upper arms and legs. Eventually, the disease confined him to a wheelchair, but his arms and hands remain strong, and he can still tickle the piano ivories and fill the air with melodies. Several years ago, Blier decided he needed to do more. He became a champion for FSHD research and lent his star power to the FSH Society.
Speaking to the nearly 300 donors who attended the New York concert, Blier shared a remark made to him by a scientist about the profound impact the FSH Society has had. "It's all about numbers [of patients], and there's a lot of competition for those federal dollars…and FSH was getting left in the dust," the scientist told Blier. "But you guys…wow. You are a tough bunch to keep down. The breakthroughs are really because of the FSH Society. And they're tremendous. They're bigger than just FSH Dystrophy."
That's because, as scientists discovered two years ago, FSHD is caused by a novel genetic mechanism, an abnormality in part of the genome known misleadingly as "junk DNA". This type of DNA does not supply the genetic code for the proteins that make up our cells, but instead regulates how and when proteins are made. In FSHD, a defect in junk DNA triggers abnormal overproduction of a protein that apparently causes muscles to degenerate.
An international team of scientists recently completed the first map of the junk DNA genome in a scientific tour de force that made headlines around the world. The breakthroughs in understanding FSHD in particular have prompted National Institutes of Health (NIH) Director Francis Collins to proclaim that "If we were thinking of a collection of the genome's greatest hits, this would go on the list."
Blier was filled with pride and joy when he realized the impact he and thousands of patients have had. "Musicians don't always know dreams from reality," he told the New York benefit audience. "But it seems that this time, my dreams—and those of so many other people with FSH Dystrophy—might finally be coming true."
"Through advocacy and research funding, our foundation has opened new doors on the genetic regulation of diseases," says June Kinoshita, Executive Director of the FSH Society. "We now must put FSHD research on the fast track towards developing treatments." With NIH facing a $2.4 billion reduction next year if automatic spending cuts go into effect, this is a critically important time for the public to step up to the plate, she says. "We want patients like Steven to benefit in their lifetimes. And I deeply believe that the knowledge gained from FSHD will also help make life better for millions of others."