Los Angeles, CA / October 03, 2012
Fans of the Fox TV hit series "Glee" know [Max Adleras the actor behind "Dave Karofsky", the closeted football jock who tormented Kurt Hummel but later took a courageous stand against bullying. Off camera, Adler is a gentle champion for FSH muscular dystrophy (FSHD), a disabling muscle disease from which both his mother and grandmother suffered. On Sunday, October 7, he will be walking alongside patients at the Third Annual FSH Muscular Dystrophy Celebrity 'Walk 'n' Roll' in Irvine, CA. The event raises funding for the FSH Society, the world's largest and mostprogressive grassroots network of FSHD patients, their families and research activists.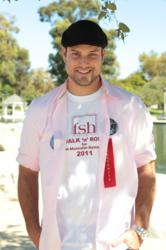 "My Mom showed signs of FSHD in her 40s," Adler says. "What shocked me is that a lot of my friends had no idea what the disease was. So it's my goal to spread awareness, and try to find treatments and cures."
Half a million people worldwide have FSHD, making it an "orphan" disease that faces an uphill battle to attract research funding and drug company investment. It's rare enough that many doctors don't recognize it, and countless patients suffer undiagnosed and isolated. The disease typically causes the muscles of the face, arms, shoulders and legs to deteriorate. It is relentless and can be profoundly disabling, with patients unable to smile, raise their arms, or walk.
Frustrated by the lack of interest in FSHD, two patients, Daniel Perez and Stephen J. Jacobsen, launched the FSH Society in 1993. Their goal: to bootstrap scientific research on FSHD at a time when there were virtually no scientists or funding to study the disease. That initial dream has borne greater fruit than they ever imagined.
The FSH Society's seed grants led to the discovery of the genetic origins of the disease. Recently, a worldwide research collaboration identified promising targets for therapies that may interfere with the production of toxic proteins believed to cause FSHD muscle wasting. This groundbreaking research offers hope for not only the millions of patients struggling with FSHD, but for those with other genetic diseases as well.
"In past two years we've learned so much more about FSHD. We're very, very close to finding treatments," Adler says. "If we can stop this from happening to other families, that would be my dream come true."
His dream is shared by two patients, Amy Bekier of San Diego, CA, and Mimi Garcia, of Calabasas, CA, who launched the Celebrity Walk 'n' Roll three years ago. The city of Irvine took notice and proclaimed October 2012 "FSH Muscular Dystrophy Month."
This year the event will welcome Irvine Councilman Jeffrey Lalloway along with more than 20 celebrities and athletes. In addition to Adler, Brian Goodell, a Mission Viejo resident and multiple Olympic gold medalist in swimming, is scheduled to speak at the event. Goodell's former Olympic teammate Rick Collela has a son who was diagnosed with FSHD.
Other notables attending the event include Olympic medalists Kaitlin Sandeno, Pat McCormick and Tonie Campbell; actors Jeremy Mathers (from "Leave it to Beaver"), Christopher Knight (Peter Brady), Zach Callison (from "Hannah Montana"), Lydia Cornell ("Sara Rush"), Patrika Darbo ("Nancy Wesley"), Melissa Hunter ("Joe Millionaire"), Peter Kwong, Anselmo Martini, Jennessa Rose ("Odd Life of Timothy Green"), Julianna Rose ("Khumba"), Tucker Smallwood ("Startrek: Enterprise") and Aaron Spears ("The Bold and the Beautiful"); singers Misi Stomber and Temara Melek; and Amazing Race 5 winners Chip and Kim McAllister.
"Through advocacy and research funding, our foundation has helped to crack open the door on the cause of FSHD," says June Kinoshita, Executive Director of the FSH Society. "We now must put research on the fast track towards developing treatments." With NIH facing a $2.4 billion reduction next year if automatic spending cuts go into effect, this is a critically important time for the public to step up to the plate, she says. "Our goal is to make sure patients today will be helped in their lifetimes. This dream is within reach, and we're asking everyone to help us get there."
The Third Annual FSH Muscular Dystrophy Celebrity 'Walk 'n' Roll' takes place this Sunday, October 7, at Irvine's Heritage Park, from 10 am to 2 pm. Visit https://www.fshdsociety.org/IrvineWalk to register or donate. General registration is $25. VIP registration is $50 and includes a celebrity meet and greet, as well as lunch sponsored by Dave & Busters of Irvine. Children under 12 are free to participate in the walk or $10 to walk and participate in the VIP lunch. Music, games, a chalk art contest for children, prizes, auctions and raffles for getaways, fine art, jewelry and more will take place after the walk. All donations and registration fees are tax deductible.