Boston, MA / January 24, 2013
Facioscapulohumeral muscular dystrophy (FSHD) is a disease most people have never heard of, even though it is one of the most common forms of muscular dystrophy. Having a name that is daunting to pronounce and spell doesn't help. But being an "invisible" disease has its up side. Frustrated by the lack of scientific research on FSHD, two patients founded the FSH Society 22 years ago, and the nonprofit organization has since worked with singular focus to raise millions of dollars in funding for FSHD research. Research projects launched with seed grants from the Society contributed to the discovery of the genetic origins of the disease, and to better understanding of underlying biological mechanisms that could soon be targeted to treat FSHD.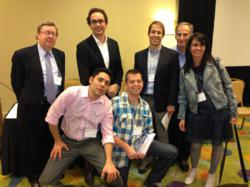 Affecting an estimated half million people worldwide, FSHD robs people of their smiles as their facial muscles weaken. The shoulder blades jut out like wings and the spine collapses as the supporting muscles degenerate. Because it creeps up in fits and starts over many years, doctors often regard FSHD as "benign", but that view is outdated, says FSH Society President Daniel Perez. Patients suffer from severe pain and disability, and may become unable to work or care for themselves as they lose the use of their arms and legs. And some, like Perez's late mother Carol, pass away prematurely as their ability to breathe unaided becomes difficult.
Two years ago, an international team of researchers announced the discovery of an unusual genetic package linked to facioscapulohumeral muscular dystrophy (FSHD), the most common form of muscular dystrophy. This genetic abnormality consists of a loss of "D4Z4 repeat" DNA near the tip of chromosome 4 together with a DNA snippet called the "A allele". This combination results in the production of a protein called DUX4, which appears to harm muscle, and is seen in over 90 percent of FSHD patients. This variant of FSHD, called Type 1, can now be diagnosed through a genetic test ordered by their doctor.
For the remaining subset of patients, this genetic test is negative, leaving a question hanging about the cause of their FSHD, which is called Type 2. In a landmark paper published in Nature Genetics in November of 2012, they got their answer: a new genetic mutation in a gene called SMCHD1, which in combination with the presence of the "A allele", also causes DUX4 protein to be made. This discovery was announced at the FSH Society's annual International Research Consortium meeting. This finding boosts researchers' confidence that DUX4 plays a critical role in both FSHD Types 1 and 2.
Currently, researchers around the world are hot on the trail of the molecular mechanisms that explain how mutations in SMCHD1 cause FSHD Type 2, and how this relates to FSHD Type 1. The goal, they say, is to develop novel therapies for FSHD based on what they learn.
The FSH Society provided fellowship grants to three of the co-discoverers of the new SMCHD1 mutation: Richard J.L.F. Lemmers, Yvonne Meijer-Krom and Silvère van der Maarel. They were joined by colleagues from the University of Rochester Medical Center's Fields Center for FSHD & Neuromuscular Research, the Leiden University Medical Center in the Netherlands, the University of Washington, and the Fred Hutchinson Cancer Research Center in Seattle. Additional funding came from Pacific Northwest Friends of FSH, the US National Institutes of Health, Netherlands Genomics Initiative, Muscular Dystrophy Association, the Geraldi Norton and Eklund family foundation, European Union Framework Programme 7, Stichting FSHD Netherlands and China Scholarship Council.
According to senior author Van der Maarel, "This study marks an important moment for a group of poorly understood patients for whom no counseling and DNA diagnosis was available." With the advent of tests for SMCHD1 mutations, these patients will be able to obtain genetic diagnosis and counseling, he said.
For patients who have tested negative for FSHD Type 1, what does this finding mean? A diagnostic test for FSHD Type 2 is not yet available from commercial diagnostic laboratories, but it can be ordered through Leiden University in the Netherlands by contacting the FSH Society and requesting a copy of the Leiden University genetic test requisition form. The test for FSHD Type 2 costs 770 euros and takes around eight weeks for results to be reported.
Rochester's Rabi Tawil, a senior co-author of the study, emphasizes that researchers still have much to learn about SMCHD1's role in the disease. "It is crucial at this point to carefully study individuals with FSHD2 as well as their unaffected family members, so that we may increase our understanding of the clinical and molecular similarities and differences between FSHD Types 1 and 2," he says.
To that end, the University of Rochester has ongoing research studies of individuals suspected of having FSHD type 2, as well as their family members. The studies involve clinical evaluations, collection of biological samples and genetic testing for FSHD Type 2. To be eligible for this study, the patient must have tested negative for FSHD Type 1, and the evaluating neurologist must rule out other possible muscular dystrophies. The study covers the cost of DNA testing and travel expenses, but due to limited resources, is able to accommodate only a limited number of individuals per year. Qualified patients can contact Colleen Donlin-Smith at 585 275 7680.
Around 500,000 people worldwide have FSHD, making it an "orphan" disease that faces an uphill battle to attract research funding and drug company investment. It's rare enough that many patients go undiagnosed and unaware that there are others with this disease. In addition to investing in scientific research, the FSH Society offers a community of support, news and information for FSHD patients and families, as well as for anyone experiencing symptoms and needing help finding qualified physicians to diagnose their condition.