Commentary by Emanuele Mocciaro, PhD, San Raffaele Scientific Institute, Milan, Italy
Facioscapulohumeral muscular dystrophy (FSHD) is caused by the "anomalous" reactivation of the DUX4 gene. DUX4 has an important role at the beginning of embryo development and is subsequently turned off and kept silent throughout life. But in FSHD, aberrant expression of DUX4 in muscle cells of FSHD patients triggers cell death and inflammation leading to a progressive muscle weakness. No cure or treatments are currently approved for FSHD.
Given its primary role in FSHD, there is strong interest in developing approaches to treatment based on blocking DUX4 expression in muscles. Here, I'm summarizing three important developments that have recently been reported.
The group of Linda Popplewell at the department of biological sciences, Royal Holloway-University of London, UK, discovered that the expression of DUX4 is controlled by peculiar elements called G-quadruplex (GQs). Interestingly, treatment with a molecule called berberine was able to stabilize GQs and led to the reduction of DUX4 expression. This was associated with an increased ability of FSHD muscle cells to form mature muscle fibers. In a mouse model artificially expressing DUX4, berberine treatment was able to improve muscle function, suggesting that berberine treatment might potentially slow down DUX4-associated muscle damage. However, because berberine has a range of pharmacological activities beyond reducing DUX4 expression, it could have unwanted side effects. Currently, there in no way to target specific genes regulated by GQs. Nevertheless, there are a number of promising new molecules being developed that could be investigated for targeting DUX4 safely and effectively.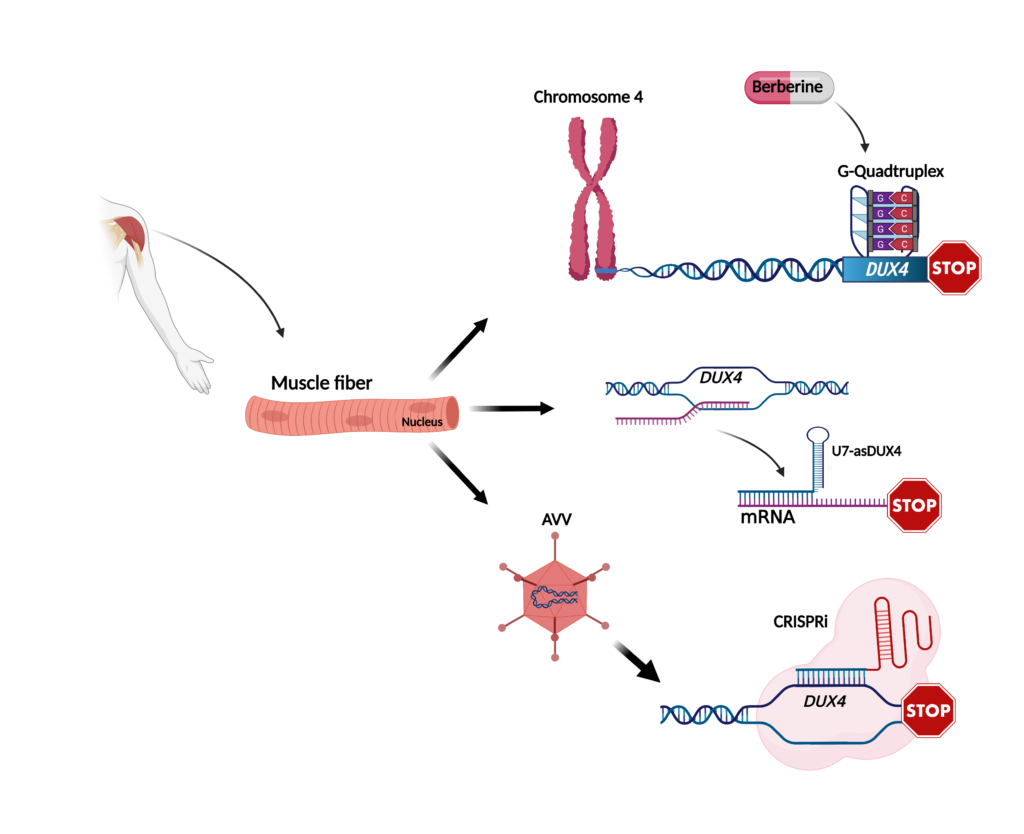 Another way to develop a potentially selective inhibitor of DUX4 is by the use of so-called antisense sequences, which interfere with specific RNA elements needed for DUX4 expression. The group of Scott Q Harper at Nationwide Children's Hospital in Columbus, Ohio, recently reported on the use of a specific form of antisense called U7-asDUX4. They showed that U7-asDUX4 can inhibit DUX4 expression and cell death in cells artificially expressing DUX4. They also found that U7-asDUX4 can reduce DUX4 expression in muscle cells of FSHD patients. Future studies will show if U7-asDUX4 is able to ameliorate DUX4-associated disease signs in FSHD muscle cells. One of the features of U7-asDUX4 is that it could be inserted inside gene therapy vectors, such as adeno-associated virus, AAV, to efficiently reach muscle tissue. This would offer the advantage that a single administration of the treatment could potentially provide lifelong U7-asDUX4 expression in patients. The safety and efficacy of this potential treatment is currently being tested in an animal model of FSHD.
Another potential use of AAV is to express CRISPR/Cas9 components. This revolutionary technology, which received the Nobel prize in chemistry in the 2020, makes it possible to specifically and efficiently target the root cause of a disease. In a recent study, the Peter L. Jones group at the University of Nevada Reno School of Medicine used this approach to deliver a machinery (CRISPR inhibition or CRISPRi) capable of restoring DUX4 silencing in muscle cells taken from FSHD patients, without altering the genomic sequences and avoiding undesirable "off targets" side effects. Evidence for the ability of CRISPRi to decrease DUX4 expression in a mouse model was also provided. As with the other studies, future work is required to test if the treatment is safe and allows for long-term amelioration of functional disease parameters in relevant animal models.
While it is currently unknown how much DUX4 repression is required to achieve a clinically relevant result, there are indications that even a small reduction of DUX4 could be sufficient to obtain a therapeutic benefit. Intriguingly, the recent studies that I have summarized could be combined in a synergistic action to silence DUX4, opening new perspectives for the possibility to develop a safe and effective therapy for FSHD patients.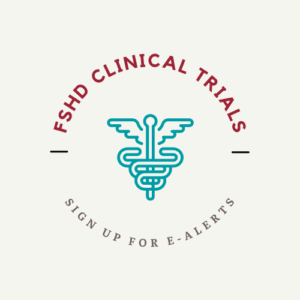 References
G-quadruplex ligands mediate downregulation of DUX4 expression. Ciszewski L, Lu-Nguyen N, Slater A, Brennan A, Williams HEL, Dickson G, Searle MS, Popplewell L.  Nucleic Acids Res. 2020 May 7;48(8):4179-4194.
Designed U7 snRNAs inhibit DUX4 expression and improve FSHD-associated outcomes in DUX4 overexpressing cells and FSHD patient myotubes. Rashnonejad A, Amini-Chermahini G, Taylor NK, Wein N, Harper SQ. Mol Ther Nucleic Acids. 2020 Dec 10;23:476-486.
Targeted epigenetic repression by CRISPR/dSaCas9 suppresses pathogenic DUX4-fl expression in FSHD. Himeda CL, Jones TI, Jones PL. Mol Ther Methods Clin Dev. 2020 Dec 10;20:298-311.