Early-Onset FSHD International Chapter
The Early-Onset FSHD Chapter is led by parents who know all too well the challenges of parenting a child with FSH Muscular Dystrophy. This group was formed by parents, for parents and families, to offer support, compassion and guidance. Our aim is to connect families, deepen community, and support FSHD families wherever they may be.
Download this booklet for information about facioscapulohumeral muscular dystrophy (FSHD) and the impact FSHD can have on students' experiences during the school day.
FSHD is a highly variable disease that affects each student differently, yet some difficulties are common to many students. Our goal is to help you prepare for some of the challenges faced by students with FSHD, and to facilitate a positive experience for both you and your students. In an effort to achieve this goal, we have gathered information from scientific reports, current and former students, and school staff who have experience working with students with FSHD, and have added insights from our own experience.
We hope this guide will help you and your students achieve success in the classroom and beyond.
FSHD Parents Hotline - 781-301-6060 x3000
Whether your child is newly diagnosed, or you've been living with FSHD for a while, sometimes you just want to speak with someone who "gets it". If you are facing a new milestone, have hit a critical juncture in your child's care, or are struggling to find the information or resources you need, it can help to speak with another parent who has been there. That's what the parent hotline is all about.
While we don't give any medical advice, our group of volunteer parents can share their experience and listen, having walked a similar path.
You can call the hotline, leave a message, and one of our parent volunteers will return your call.
----------
If you are interested in volunteering in this way, please reach out to Ally Roets, Early-onset Chapter Director, at EarlyOnsetChapter@FSHDSociety.org or by leaving a message on the hotline at 781-301-6060 x3000
The FSHD Society does not offer medical advice. The information shared on this website and through this group is not intended to be a substitute for professional medical advice, diagnosis, or treatment. We strongly recommend that your care and treatment decisions be made in consultation with your healthcare professional team.
__________
To contact us directly, please email: EarlyOnsetChapter@FSHDSociety.org
To ensure you never miss important information about early-onset FSHD or the work of the chapter, simply fill out the form in the sidebar to become a member of this group.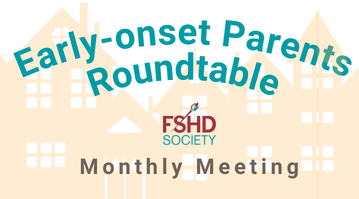 Zoom Virtual Meeting
, United States
8:00 PM ET | 7:00 PM CT | 6:00 PM MT | 5:00 PM PT Carden Wyckoff This month we will host a roundtable conversation with young adults with FSHD.... Read More »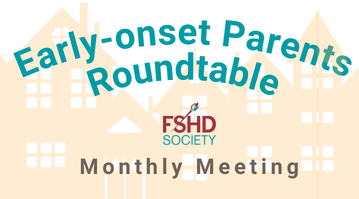 Zoom Virtual Meeting
, United States
8:00 PM ET | 7:00 PM CT | 6:00 PM MT | 5:00 PM PT Join us for our monthly Early-Onset Parent Roundtable on the 3rd Tuesday of each month,... Read More »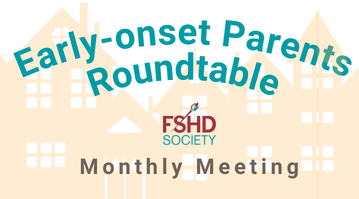 Zoom Virtual Meeting
, United States
8:00 PM ET | 7:00 PM CT | 6:00 PM MT | 5:00 PM PT Join us for our monthly Early-Onset Parent Roundtable on the 3rd Tuesday of each month,... Read More »