Welcome to the Pacific Northwest Chapter!
Thank you for visiting the Pacific Northwest Chapter of the FSHD Society! We are here to build a local community of patients, family and friends, and help them connect and advocate for themselves and each other. Our hope for the future is to find a cure – Until then, we hope to bring a greater awareness to the community, and to help improve the quality of life of all those affected.
_________
Pacific Northwest Walk & Roll to Cure FSHD - Fall 2021!
We continue to celebrate the tremendous success of the 2020 Virtual Walk & Roll to Cure FSHD and we look forward to walking and rolling together in 2021. Stay tuned for date, location and more details. Please visit the
National Walk & Roll to Cure FSHD
page for more information & the latest updates!
On August's virtual chapter meeting, we discussed the PNW Walk & Roll to Cure FSHD and then had a great discussion sharing our "First Freedoms" - all the things we can't wait to do once it's safe to ventyre out again!
Check out the shared ideas here: PNW FSHD Mtg 8.29.2020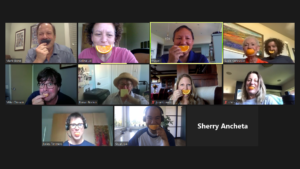 In June we celebraed World FSHD Day together! Connecting with each other and raising awareness on social. It was a great time!
You can review our PPT to learn more: FSHD Meeting June 2020
On May's virtual chapter meeting on Zoom we shared "Life Hacks", tips, and resources. It was a fantastic conversation with many contributing.
Check out the shared ideas here: FSHD Spring Meeting May 2020
Pacific Northwest Chapter in Pictures
_________
To contact us directly, please email:
PacificNWChapter@fshdsociety.org
Don't forget to follow us on FACEBOOK!
Please join us! Simply fill out the form in the sidebar to become a member of your local chapter

May

10
This is our monthly Zoom meeting on Wellness, held on the second Monday of each month at 5:00-6:00 pm ET (if Monday is a national holiday, the meeting will be held on Tuesday). Last month we all enjoyed a very informative and lively discussion about travel, dealing with air lines, hotels, and damaged power wheelchairs. By popular demand, we will continue on this topic and expand it to travel for people who are still walking as well as to local…
Find out more »
9:00 PM ET | 8:00 PM CT | 7:00 PM MT | 6:00 PM PT Lori Brant Join host Tim Hollenback on YouTube on the 2nd Tuesday of every month. Call Tim at 414-375-2561 to share your thoughts, or post questions and comments in the YouTube comments section. You can also watch the recording on Facebook or access the podcast on most any streaming channel. "Our guest this month is Lori Brant, a life coach who lives with FSH muscular dystrophy.…
Find out more »
8:00 - 9:00 PM ET This monthly meeting is for those of you who are providing care to loved ones with FSHD. This virtual meeting is a safe and supportive space to share your experiences, challenges, and helpful tips with other caregivers. Please respect our rules restricting this meeting to caregivers (or "sharegivers," as Isaac Prilleltensky has proposed, because providing care to loved ones is a two-way street). Because we don't want to publicly post the Zoom meeting link (to…
Find out more »
+ Export Events