Welcome to the Pacific Northwest Chapter!
Thank you for visiting the Pacific Northwest Chapter of the FSHD Society! We are here to build a local community of patients, family and friends, and help them connect and advocate for themselves and each other. Our hope for the future is to find a cure – Until then, we hope to bring a greater awareness to the community, and to help improve the quality of life of all those affected.
_________
Pacific Northwest Walk & Roll to Cure FSHD a Success!
Our 2020 Virtual Walk & Roll was fantastic, thanks to all of you! Our chapter overcame all the obstacles 2020 threw at us. You invited your family and friends and they showed up!
On Saturday, September 12, 2020 we joined with Chapters nationwide to celebrate in a 4-hour Facebook livestream event. It was awesome.
Together we are celebrating more than a half million raised nationwide!
Special thanks to our Platinum Walk & Roll Sponsor:
Zetterberg Home have been building homes and client relationships throughout the Puget Sound for over 50 years.  We are thankful for their support of our work to empower individuals with FSHD to build community and accelerate research to find a cure.
On August's virtual chapter meeting, we discussed the PNW Walk & Roll to Cure FSHD and then had a great discussion sharing our "First Freedoms" - all the things we can't wait to do once it's safe to ventyre out again!
Check out the shared ideas here: PNW FSHD Mtg 8.29.2020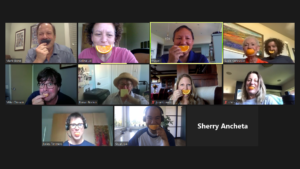 In June we celebraed World FSHD Day together! Connecting with each other and raising awareness on social. It was a great time!
You can review our PPT to learn more: FSHD Meeting June 2020
On May's virtual chapter meeting on Zoom we shared "Life Hacks", tips, and resources. It was a fantastic conversation with many contributing.
Check out the shared ideas here: FSHD Spring Meeting May 2020
Pacific Northwest Chapter in Pictures
_________
To contact us directly, please email:
PacificNWChapter@fshdsociety.org
Don't forget to follow us on FACEBOOK!
Please join us! Simply fill out the form in the sidebar to become a member of your local chapter

Dec

10
3:00 pm ET | 2:00 pm CT | 1:00 pm MT | 12:00 pm PT. Last spring, shortly after states began locking down, Drs. Ghinwa Dumyati and Rabi Tawil from the University of Rochester presented a webinar on the COVID-19 pandemic. In the eight months since, researchers around the world have worked at a breakneck pace to understand how the virus spreads, how it affects patients, how to treat it, and ultimately how to prevent it through a vaccine. With…
Find out more »
+ Export Events