Over six days in June, in Orlando, Florida, the FSHD Society will bring together world leaders in FSHD research, patient care, advocacy, education, and support.
FSHD Connect patient conference, a cornerstone in the series, is for patients and families. Virtual registration remains open and you can tune in from anywhere!
June 15:
Industry Collaborative
Workshop (invitation only)
June 16-17
29th Annual International Research Congress (IRC)
June 18-19
FSHD Connect
patient conference
June 25-26
World FSHD Alliance
global summit (invitation only)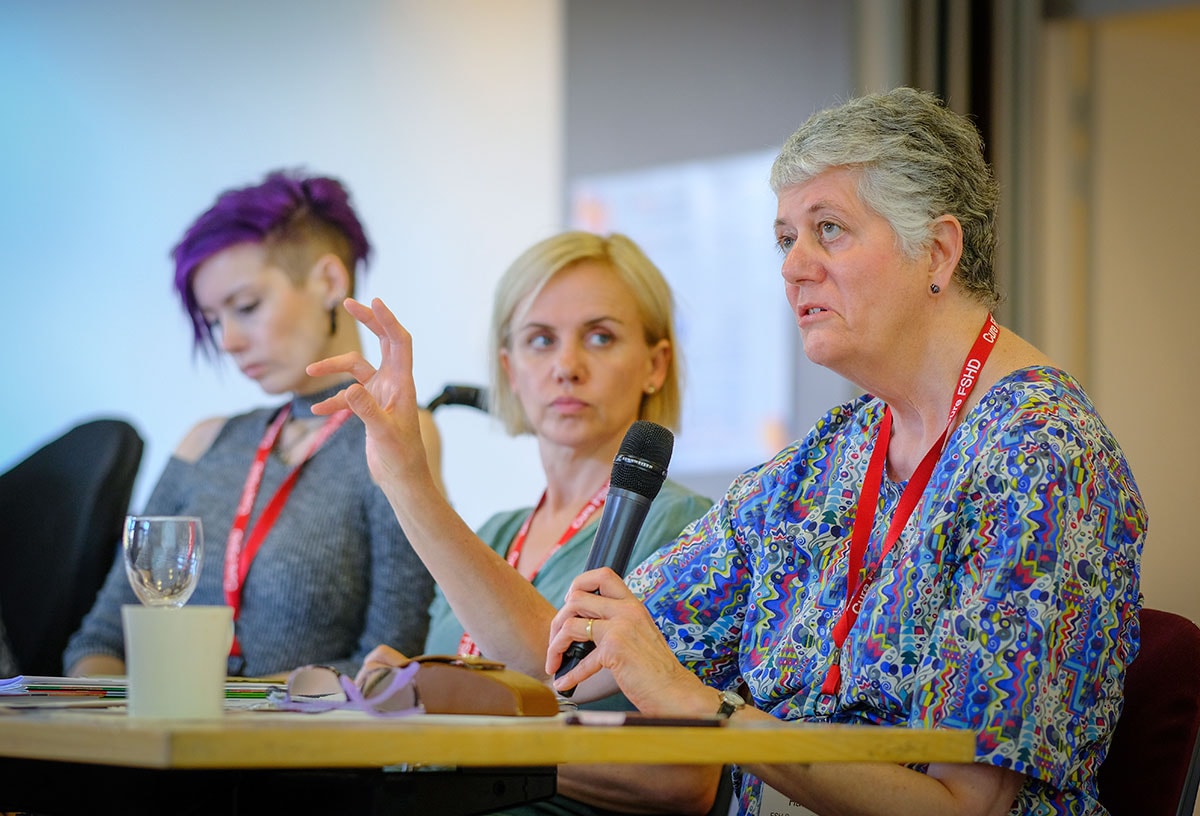 FSHD Connect is the FSHD Society's flagship educational conference.
Held every two years, it is the world's biggest networking event for FSHD, bringing together hundreds of individuals and families living with FSH muscular dystrophy, clinicians, and researchers for two days of immersive learning and workshops. You'll find out about the latest research, drug development, and clinical trials, as well as a wealth of news you can use, from managing symptoms to navigating the challenges of daily life. You'll be meeting and learning from the greatest experts—other patients and families like yours!
Virtual registration remains open and it is not to late to sign up and tune in!

Please note that in light of ongoing concerns regarding COVID, the FSHD Society will implement health and safety protocols appropriate to the public health circumstances existing at the time of the Conference. The FSHD Society will strive to utilize protocols that will comply with or exceed any federal, state and local public health requirements and be consistent with then-prevailing public health standards. These protocols include asking that all in-person attendees be up-to-date with CDC COVID vaccination guidelines and may include the additional following criteria: proof of COVID vaccination status, self-monitoring, biometric screening, symptom checkers, contact tracing, use of personal protective equipment and social distancing, or other similar measures
With 2022 FSHD Connect bumping up against World FSHD Day on June 20th, you may be interested in purchasing an official World FSHD Day T-shirt to wear at the conference. Think about the opportunities to take selfies and group photos there to post on social media and raise worldwide awareness!
Check out the talks from FSHD Connect in 2020!
The 2020 FSHD Connect Classroom was held on Saturday, June 27, 2020, as a one-day online conference, to take the place of our biennial FSHD Connect conference. The conference was a great success, with more than 400 registrants who enjoyed a series of stellar presentations by medical and research superstars, with the latest news on medical care, drug development, and our nationwide initiatives. We will be posting videos and slides from the conference shortly. (To browse previous FSHD Connect conferences, scroll down.)
Slides and additional resources on orthotics from Allard can be downloaded here. Use pass: Webinar2020
2018 FSHD Connect Videos!
Our 2018 FSHD Connect conference was held at the Flamingo Las Vegas on June 9-10, 2018. The conference gathered together 400 patients, family members, researchers, physicians, and health experts for a day-and-a-half of intensive learning and community activism. Our meeting featured talks by thought leaders on the latest in scientific research and medical management of FSHD, including 10 academic and industry researchers who are actively working on new treatments for FSHD. The FSH Society also launched its national chapter program at this meeting.
Please share this post with family members and urge them to join the FSH Society if they have not done so already. There has never been a more important time for all individuals with FSHD and their families to be actively engaged with these efforts.
View the 2018 FSHD Connect Program. The talks can be viewed by watching the playlist below or by accessing the accordions to the right of the video and clicking on titles of individual talks.
2016 FSHD Patient Connect Conference
The FSH Society's 2016 Patient Connect conference was held on Friday, November 11, (noon to 5:00PM) and Saturday, November 12, 2016 (9:00-5:00 PM) at the Westin Copley Place Hotel in Boston, Massachusetts. The conference brought together hundreds of patients and family members with top researchers, doctors and health experts for two days of immersive learning and community-building. Download the Patient Connect program here.
Presentations and breakout sessions slides can be downloaded by clicking on the highlighted titles* to the right.
*If a talk is not highlighted, the slides are not yet available.
Genetics and genetic testing. Silvere van der Maarel, PhD (VIDEO)
How FSHD affects your body and health. Kathryn Wagner, MD (VIDEO)
Getting to know you. Claudio Ordonez, MD (VIDEO)
Clinical trials: current and impending. Rabi Tawil, MD (VIDEO)
Pregnancy & women's health (Kelly Minks, MS, CGC)
Waking up your muscles (Lynnette Rasmussen)
Managing pain & chronic fatigue (Katy Eichinger, PhD)
For the newly diagnosed & mildly affected (Carol Birnbaum, MD)
2014 FSHD Connect Conference
Event Date: Saturday-Sunday, August 16-17, 2014
Event Place: The Westin Boston Waterfront
425 Summer Street
Boston MA 02210
The 2014 FSHD Connect Meeting, sponsored by the FSH Society, brought together hundreds of patients and family members with top researchers, doctors and health experts for two days of immersive learning and community-building.  This year's meeting featured talks by leaders in the field of FSHD, including reports from major clinical and research centers, question-and-answer panel sessions, and educational workshops.  Popular breakout sessions include topics that members requested, including teenagers and young adults, caregiving, traveling and sports. View the 2014 FSHD Connect Final Program here.
Here are the slide decks from the 2014 FSHD Connect conference:
2012 FSHD Society Patient Conference
Access the video playlist for the 2012 FSHD Society patient conference HERE or you can begin watching the video on the right!